S850ANew GNSS Receiver
With Atlas and IMU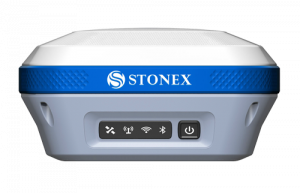 Equipped with an advanced 800 channels GNSS board and capable of supporting multiple satellite constellations, including GPS, GLONASS, BEIDOU, GALILEO, QZSS and IRNSS. Stonex S850A GNSS receiver is an ideal solution for any surveying field work.
S850A has also L-Band correction. The advanced receiver design gives to the S850A an excellent signal tracking ability and interference resistant capacity. Advantages of portability and speed of operation make S850A GNSS receiver particularly suitable for fieldwork in areas of complex terrain.
Stonex S850A is equipped with all the necessary connections, has integrated Bluetooth and internal Wi-Fi functionality; has a built-in dual frequency UHF radio, 410-470 MHz and 902.4-928 MHz and the worldwide compatible 4G GSM modem.
Stonex S850A integrates also the new IMU System that allows tilted measurement (TILT) up to 60°: quick initialization, fast and precise survey.
700 channels GNSS board, multiple satellite constellations
Integrated UHF dual band radio, 410-470MHz and 902.4-928MHz
4G LTE and Bluetooth / WLAN datalink support

Integrated E-Bubble sensor

L-band correction & aRTK functionality

Inbuilt battery, operation up to 9h

Web User Interface

IP67