High Precision TOTAL STATION.
Now with Endless Friction Drives and Trigger Key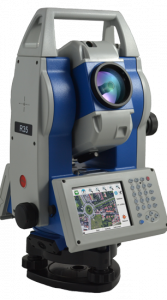 Stonex R35/R35LR series is the most customizable Total Station of the market. Depending on the User needs, R35/R35LR comes with endless friction drives for continuous horizontal and vertical rotations, 2" accuracy and 600/1000 m reflectorless range.
This advanced Total Station is fully customizable: each user can choose the software that best suits own needs. Several onboard software to be choosen, such as Microsurvey FieldGenius, Carlson SurvCE, ANTAS Mobile and many Custom field applications.
In addition the TFT 320×240 touch screen display on both sides gives the Surveyor a clear, colourful and fully graphical environment, and the user friendly on board software supports the users with guided through functions for data collection, topographic surveys, staking out.
The high-precision class 3 EDM featuring millimeter accuracy even on long range distances, and the absolute encoders performing high precision angles measurements, provide reliable points calculation in every condition.
Features:
Angle accuracy 2"

600m ReflectorlessR35

1.000m ReflectorlessR35LR

Bluetooth

Guiding light

Endless Drive

Windows OS

2 Color Touch Screen Display